So, How's Life?
Meh!
Seriously, MEH!
I've never felt so relieved/pissed in my entire life!
Anyways, to a review...
Attack, of, the, stuff!
So, what happens when there is nothing to do in the world, but play Video Games? Live my life is exactly the answer. Today, while perusing my E-Mail and throwing out the overbearing 'Increase your Genitalia Size' e-mails, I came across a promotion for Lord of the Rings: Battle For Middle Earth II. See Below:
So, Squids, Eh?


So, needless to say, I was skeptical at first. I though, "Hey, well, its LotR, and your a nerd." "es, but its an RTS, on a console, we played Starcraft on N64" "True, but the 64 wasn't a 360..."
Damn my concious! It was true, it wasn't a 360, although it was fun. Seemes to be that anyone now-a-days is crafting a new control scheme [/sarcasm]. Yes, every FPS since Halo has used Halo's control scheme, don't deny it. So, delving deeper, I come across the controls for this. Everything is done with the A button.
Everything.
Sketchy, to say the least. I keep reading, and I'm not going to lie, this game started to get 'bitchin' quickly. So, I whipped out my Credit Card, ran it through EBgames, and scored myself some free Maps over the XBL Marketplace. Cha-Ching baby. All for only 70 some odd dollars. Which is fare, since I'd've spent 75 downloading the maps.
Music

Lately, I've been listening to some of he music hiding on my computer, because thats where i've been (dur). So, its been a Fort Minor song on repeat, as it is perhaps one of the sweetest songs I've ever heard. In my life. Entirely not kidding.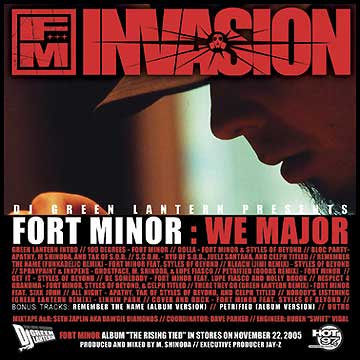 Damn, Mike Looks Badass

So, with that on repeat, I have pretty much got the song "Petrified (Doors Remix)" Burned into my vocabulary. Its a good song. You should try and check it out.


So, In closing, its been a rough week. Although my school year of 11th grade is now over, I have only the final year of my highschool education left, and then, College.... *groan*
SHAMELESS PLUG OF THE WEEK:
www.urbandead.com
A sweet lo-tech Zombie game. Go play, my Human Character's name is Shingen